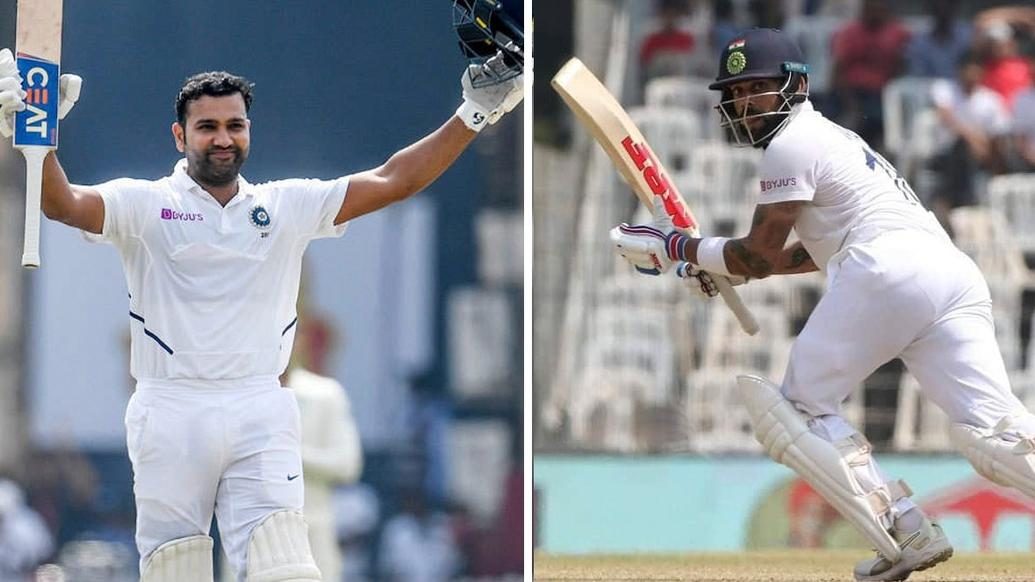 World Test Championship Final is less than a month to go and the anticipation has been high for a cracker of a game at the Rose Bowl between India and New Zealand. India will be going into the match after a long quarantine, while New Zealand will be having some decent match practice against England in the two-Test series preceding the WTC Final.
The previous encounter (2020) between the two heavyweights (in NZ), which was part of the World Test Championship, ended in 0-2 drubbing for Kohli's men. Much of the failure was attributed to the batters for being unable to put enough runs on the board. This time, there will be very little room for error and Virat Kohli's men will need to quickly adjust to the English conditions to make it count.
View this post on Instagram
Today, we will have a look at some of our top batsmen and try to dissect their statistical data over the years against the Kiwis in Red Ball cricket.
Rohit Sharma: The flamboyant opener last played against the Kiwis in 2016. He missed out on the 2020 series due to a calf muscle strain. The Mumbai lad has the highest average (60.00) playing against New Zealand among his contemporaries (Indians). In 5 matches, he has gone on to score 360 runs which included four 50s. However, his away games average dips to 40.66 whereas his home average stands at an astonishing 79.33.
Rohit's highest score playing overseas against the Kiwis came back in 2014 where he smashed his way to a 72 off 120 balls in Auckland. In India, his personal best stands at 82 (Kolkata, 2016).
Rohit Sharma's affinity to playing the pull and hook shots might work out well on the bouncy track of Southampton. However, he has a knack of fiddling with the outswingers and here he will need to be careful against the likes of Trent Boult and Tim Southee.
Watch Rohit Sharma's fluent 82 against NZ in Kolkata
(Video hosted on bcci.tv)
Virat Kohli: The skipper had a forgettable last meeting with New Zealand in the 2020 series. With scores of 2, 19, 3 and 14 (averaging 9.50) in the four innings, Kohli looked far from his lethal best. No wonder his average against the islanders in away games dropped to 36 while his overall average has been as high as 51.53. Kohli has had his moments of genius against NZ too but two out of his three centuries have been made in Indian conditions. His highest of 211 came in 2016 at Indore. The overseas best stands at 105*, which he scripted at Wellington in 2014. Kohli at 773 runs in 9 matches is the highest run-getter among his current teammates against NZ.
The India captain will have a lot at stake not only as a batsman but also as a skipper, going into the Final. India ended the league stage as table-toppers and Kohli will certainly like to end it like that and create history on the English soil!
Watch Kohli's special knock of 211 in the 2016 - his highest ever against NZ
(Video hosted on bcci.tv)
Cheteshwar Pujara: Our Wall of recent times, Cheteshwar Pujara might be one of the hardest thorns in an opponent's flesh. But the right-hand batsman's recent statistics against NZ has been far from being impressive. Averaging just 20 in away matches against the Black Caps, Pujara has a personal best of 54 in overseas conditions, while in India it stands at 159. The above-mentioned fifty is the only half-century that Pujara has against them in away games. Saying that, Pujara has amassed 749 runs in 9 matches against NZ over the years and there's no denial he will add the required fillip to our batting show.
Our middle order is heavily reliant on him and we may expect a repeat show of his Aussie resilience in Southampton too.
Watch Pujara's brilliant ton in Indore (Video courtesy: BCCI):
Ajinkya Rahane: The India vice-captain has almost a similar statistical pattern as skipper Kohli. His away average hovers around 36 while his home average jumps to 69.14 against the Kiwis. His show in the 2-Test series against NZ last year was part of the collective failure that Indian batters had encountered. In four innings, Rahane got 46, 29, 7 and 9. Having said that, he has scored 600 runs in 7 matches against the Kiwis, averaging 50 and we can certainly brush aside the previous disappointments and look forward to capitalising on his experience one more time!
Watch Rahane's 188 against NZ in Indore (Video courtesy: BCCI):