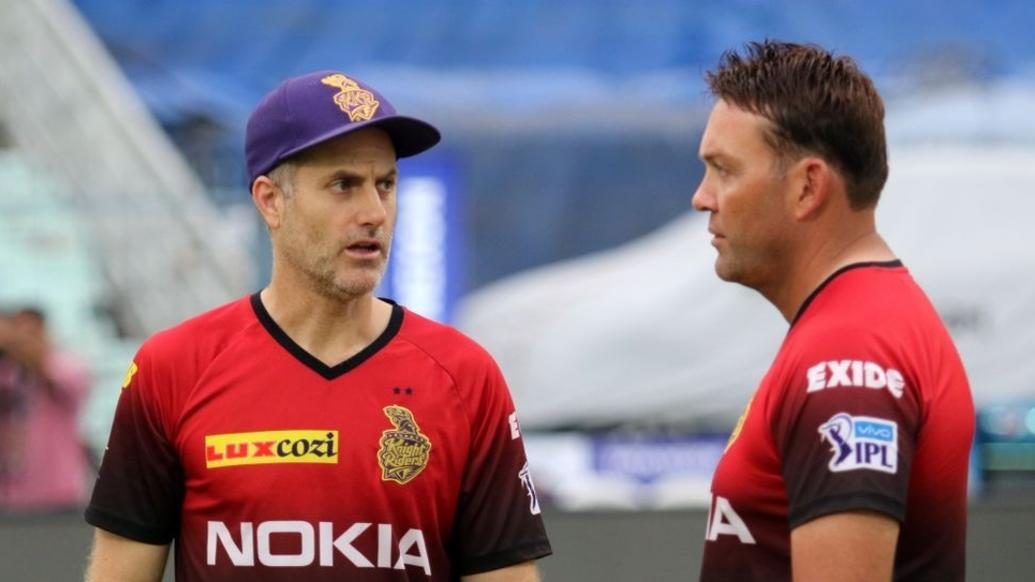 Despite the busy schedule of the 2018 Vivo Indian Premier League, our Knights took to Eden Gardens to iron out the few chinks in the armour during an optional practice session on Sunday (April 15) evening.
Before the session begun, Simon Katich, our assistant coach, spoke to the media about the mood in the camp and the plans going into the crucial KKR vs Delhi Daredevils match on Monday night. Excerpts:
Q. How concerned are you after the two losses (against CSK and SRH)?
SK: Every time we go to play, we want to win the game. We feel that in the first three games, potentially we could have won all three. We haven't done that, so the thing to focus right now is process and not the result. In the last couple of games, things have not gone according to plan with both bat and ball, particularly in the back end. Last night here in Kolkata, we were obviously 25-30 runs short with the bat and that put us under pressure with the ball. I thought the spinners last night were outstanding.
To be fair to the batsmen yesterday, the rain breaks kept happening, we never got any momentum in our innings. I think from a batting point of view, our batsmen have all looked really good at the start of the tournament. It is not about talent or who we have got, it is more about applying the skills and the thought process behind that. Sometimes in T20, things get cluttered at times in the batsman's mind and at times, we have not taken the right options.
In the Chennai game, we batted beautifully, here in the first game, we did well. It is about going out there now and doing well with both bat and ball in the same game and get the right result.
Q. Are the youngsters like Shubman Gill and Shivam Mavi getting enough backing from the management?
SK: Had they not been backed by the team, they would have been sitting on the bench given the amount of experience we have. They are certainly being backed. As a young player, there will be times when you are finding your feet at the higher level, you don't always get to bat at the position you are used to but that's all part of the journey of adapting as a batsman. The more you do that as a batsman, the better all-round game you can get from that.
So from that point of view, it is the same for the bowlers. They don't get to bowl at the time of the innings they want, because the team comes first. The captain has to decide who's going to bowl, who he thinks is the right option at that time and we do have a number of very experienced players in the team. If you look at the team, nine out of the eleven are very experienced.
From a backing point of view, we are backing them by the fact that they are getting games. There are not too many other teams who are playing 19-year-olds at this stage of the tournament. We are certainly backing them and hopefully they will get more opportunities to show us what they can do. The expectations really, we are not expecting them to go out there and play an innings like an Andre Russell, it is about giving them an opportunity.
Hope the senior guys take a little bit of pressure off them in terms of the way they set the innings up particularly in Shubman's case. That didn't happen last night as the youngster came under fair bit of pressure with the scoreboard not going too far. That was a tough initiation against a very good attack. He'll be better with the experience. We will obviously have chats with him about the next game and hopefully he can show everyone what he can do.
Q. Are there any concerns about the middle-order right now?
SK: It's only a concern in the fact that guys have got starts. In the way they have all played, they all looked in good touch. Robin Uthappa's innings in Chennai, he was striking the ball beautifully. Obviously, Nitish Rana has played some useful knocks, he has got starts and he has looked dangerous particularly against RCB.
He was good last night and it was a fantastic catch from Pandey. Dinesh Karthik has also been in great form. So the only concern is they haven't kept on and converted their starts. From that point of view it would be more of a concern if guys were getting out for less than 10.
But they are not. they are looking good and striking the ball well. make sure we stay in partnerships longer and take the innings deeper. We have done that very well against Chennai but unfortunately in the next matches we were sloppy in the field.
Q. Gautam Gambhir is returning to Eden Gardens as the opposition captain. Will it be an emotional moment?
SK: As I said before, there are a lot of new faces in the team. There are guys who have joined from other teams, some youngsters so it's not the exact same team that played under Gautam for so many years. But I think from our point of view, it's about performing well against the opposition. If you start playing the man rather than the ball, you know you are in trouble in this game.
Yes there will be emotions involved from I guess Gautam's point of view because he had a fantastic time here as captain and was very successful. We know he will be up for the challenge as three of the Sunrisers boys were last night (Manish Pandey, Yusuf Pathan, and Shakib Al Hasan).
So from that point we can't keep every player in one with the auctions. In terms of the way we go about it, there are ten other players in the Delhi team that are very dangerous as well and a number of them showed that against Mumbai yesterday.
Q. Thoughts on Gautam Gambhir knowing the venue so well.
SK: Gautam knows our team inside out. Obviously there's a lot of changes in the personnel, due to the way the auction panned out. He will know the wicket and conditions really well. He knows about a lot of players who have been here for a long time. Conversely, so do we. It promises to be a fantastic game, they obviously had a very good win in Mumbai yesterday. They have a few guys who are in very good form. You can look at the game before and in this format, it can count for confidence but it all changes once the first ball is bowled. We found that out in the last couple of games, we started very well against Bangalore and then didn't make most of the opportunities against Chennai and then we turned up against a very strong Sunrisers. Things can change very quickly in this format. We need to sure that mind stays positive.
Q. What is your assessment of Dinesh Karthik's captaincy?
SK: He has been really good so far. Things hasn't quite gone to plan. But in terms of how he settled in, he is getting around the group. We have a lot of youngsters. So he is spending a lot of time chatting with youngsters. From a performance point of view, he would have liked to get the team home a couple of times. He was trying last night, did not quite go to plan. The effort is there. His keeping has been excellent.
Q. Abhishek Nayar has joined the support staff of KKR. What will be his exact role?
SK: It's a fantastic addition. Abhishek's done a lot of work with a number of players around the domestic scene. DK is one of those players. Having met him today and spoken about what happened yesterday and moving forward how he sees things are really positive for us. We do have a lot of younger players. Sometimes there is the language barrier and lost in translation issues...so he is a real positive for us. He has got the best out of Dinesh recently so it's a positive move for us.