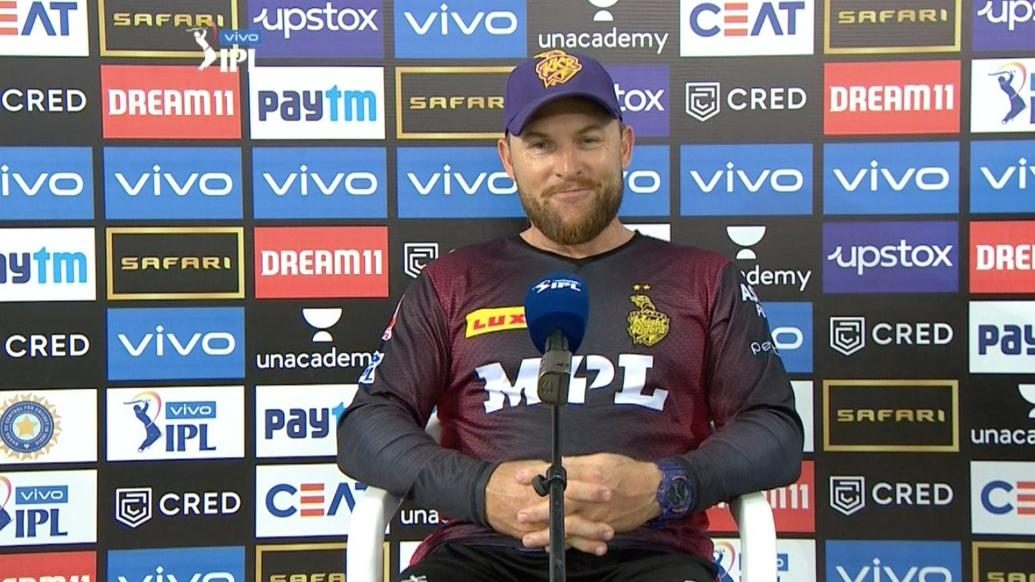 Punjab Kings registered a five-wicket win over the Kolkata Knight Riders at the Dubai International Stadium in a nail-biting encounter, courtesy of a sublime half-century by KL Rahul.
The skipper led from the front by smashing 67 runs off 55 deliveries, including four boundaries and two sixes to guide his team over the line in this crucial encounter.
In the post-match press conference, Brendon McCullum shared insights on the game by saying, "Look, I thought we probably played another really good game of cricket tonight. Punjab Kings deserved to win because I think they seized the key moments, but we certainly played our hand in a really good game of cricket."
After being asked to bat first, Venkatesh Iyer started the innings in a commanding fashion by smashing yet another half-century (67 off 49) to set the foundation for a fighting first innings total.
The Head Coach of the side heaped praises on the youngster by saying, "I think he is one of those cricketers who is going to continue to get better and better. I don't think he is going to be a consistent player for a little while when it comes to batting, just because of his want to hit the ball, which I clearly encourage. What he has done so far already for us is shown that he belongs to this level, and he is going dominant in this form of the game if he continues to approach the game in the same manner that he is so far."
While he has showcased his prowess with the bat, Iyer contributed with the ball as well. The right-handed pacer was assigned the role of bowling crucial overs, and McCullum feels he is more than ready to be a genuine all-rounder for the side.
"He is, in my view; he is definitely an all-rounder. Look, I think I have talked at length already when you're talking about Venkatesh Iyer; it is not just his cricketing ability, it is his mindset and his cricketing brain and also the fact that he has other things going on in his life which means that cricket is not necessarily everything to him," he said.
Comparing his skill sets to a world-class all-rounder in Ben Stokes, McCullum added, "He has a great perspective on the sport, and he is a guy with huge ambitions and a really bright future, not just as a batsman but as a genuine all-rounder. The catch he almost pulled off tonight was reminiscing of another great all-rounder, currently not playing the game but has been dominant in Ben Stokes, " he added.
McCullum also hinted at the potential role of Shakib Al Hasan and his inclusion in the playing XI by saying, "Yeah, Shakib's certainly available as well. We've got a lot of squad options. You make calls when you're a coach, which you sort of go a little bit on gut feel at times. Tim Seifert has been exceptional in the Caribbean, where he's been playing for TKR over in the CPL. He did really well in the middle order, and we just felt like we needed to strengthen that middle order a little bit.
"Because we got off to a good start, we shuffled Tim down a little bit in behind Eoin Morgan and Dinesh Karthik. But yeah, look, Shakib's always in the mix when you talk selection because of his skill set, his ability to bowl left-arm orthodox and also his batting. We probably see him a bit more in the top three as a batter, but that certainly doesn't mean he can't slot in somewhere else. So he'll be in the mix for the next game for sure, " he concluded.