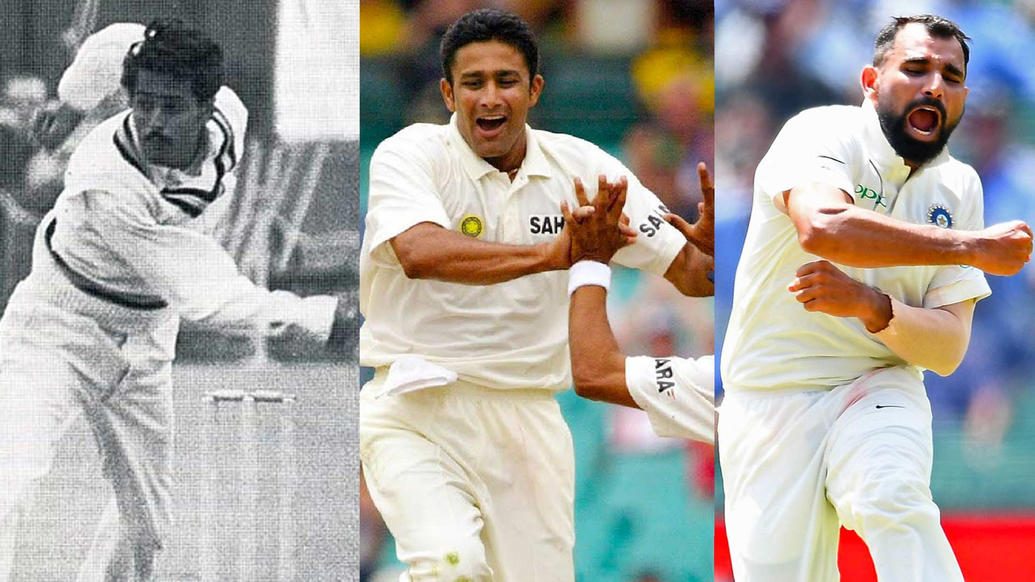 Cricket is a batsman's game in shorter formats, but the only way you can win a Test match is by picking 20 wickets. In this article, we are listing out FIVE of the best spells by Indian bowlers in Australia, which indeed left a massive imprint on every cricket fan's minds.
BS Chandrashekar's 6/52 at MCG (1977-78)
Gundappa Vishwanath once said, "You will never get another match-winner like Chandra." BS Chandrashekhar, the legend who overcame Polio to make his name in international cricket, returned magical figures of 6/52 in both innings of the third Test match in the 1977-78 series against Australia.
India had already lost the first two Tests before they headed into the third at MCG. Chandrashekar's spells scripted India's 222-run win. In response to India's 256 in the first innings, the Aussie batters fell like house of cards (213 all out), blown away by his wizardry.
He eliminated the two most crucial players Gary Cosier (67) and Craig Serjeant (85), besides also removing captain Bob Simpson, Steve Rixon and Wayne Clarke. In the second innings, too, he ran riot with identical figures to seal India's win.
Kapil Dev's 8/106 at Adelaide (1985-86)

Kapil Dev's 8/106 still stands as the best Test bowling figures in an innings Down Under. This was the first Test of 1985-86 Border Gavaskar Trophy at Adelaide and India were playing Australia on their soil after 5 years. Kapil looked ominous with his variations and restricted Australia's first innings to 381. India put up a huge 520 on the board in reply but the Test ended in a draw eventually.
The best part about Kapil Dev's performance was, he struck when it mattered the most, dismissing the likes of legendary Allan Border (49) and David Boon (123) and Greg Ritchie (128) – all well set and looking to build a massive total. His other wickets included Wayne Phillips (11), Greg Matthews (18), Craig McDermott (0), Bruce Reid (2) and Merv Hughes (0).
Anil Kumble's 8/141 at Sydney (2003-04)

There have been many memorable bowling performances from Anil Kumble and this one is certainly one of them. Kumble's 8/141 came on the back of Sachin Tendulkar's 241* which set up a huge 705-run total for India in the first innings. Australia did exceedingly well for the opening stand as Matthew Hayden (67) and Justin Langer (117) put on a 147-run partnership. Clueless on how to break the stand, captain Sourav Ganguly entrusted Kumble to do the job and he didn't disappoint at all.
He wiped out both Hayden and Langer besides picking up Ricky Ponting (25), Damien Martyn (7) Simon Katich (126) Brett Lee (0), Jason Gillespie (47) and Nathan Bracken (2). This also marked his career-best overseas bowling figures.
Ajit Agarkar's 6/41 in Adelaide (2003-04)

India's win at Adelaide in the second Test was mostly remembered for Rahul Dravid's fighting 233 and VVS Laxman's 148. But Agarkar's 6/41 in the second innings proved to be the final nail in the coffin for Australia. Agarkar's career-best figures included the wickets of Justin Langer (10), Rickie Ponting (0), Simon Katich (31), Andy Bichel (1), Jason Gillespie (3) and Stuart MacGill (1).
After a draw in the opener, the Adelaide Test started with massive setback for India. A double hundred from captain Ricky Ponting took the Aussies to a gigantic 556-run first innings total, putting the Indians on the back foot. The Dravid-Laxman pair did majority of the damage control. However, it was Agarkar's brilliance that restricted the Baggy Greens for 196 in the second innings, eventually setting it up for India's successful 230-run chase.
Mohammad Shami's 6/56 in Perth (2018-19)

Mohammed Shami became the first Indian bowler after a gap of 15 long years to pick up a six-wicket haul in a Test innings on Aussie soil. Ajit Agarkar's 6/41 that we mentioned earlier was the last one from an Indian pacer. What we witnessed from Shami was something very special. His pace and bounce led him to his career-best figures of 6/56 in the second innings of the second Test at Perth that gave India a ray of hope to pull off a win after a disastrous first innings batting collapse. However, India couldn't capitalise on the bowling advantage and were bundled out for just 140 while chasing 287 for a win.
Having said that, there is no denial that Shami's contribution was outstanding. He, in fact, created the record of the highest number of wickets in a calendar year (44) by an Indian pacer during the match. His scalps included: Aaron Finch (25), Usman Khawaja (72), Shaun Marsh (5), Travis Head (19), Tim Paine (37) and Nathan Lyon (5).

***

Think someone else should be on this list? Tell us in the comments on our Social Media @KKRiders