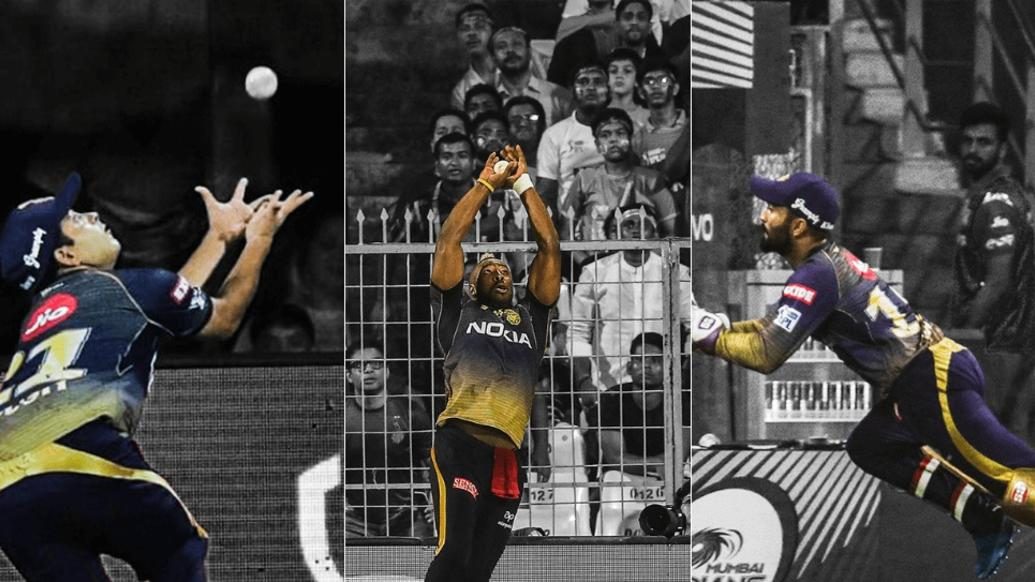 No cricket team in the world depends on one or two players, it's always the team-work which gets them to a victory. Everyone knows the importance of catches, and how a good catch at a crucial stage of the match can turn the game on its head. It's very evident how the level of fielding has changed these days with players throwing their bodies around and putting themselves on the line to save every single run or catch, and some of them are just unbelievable.
Three catches stood out for KKR in the recently-concluded season of the IPL.
Match No.23
Chennai Super Kings vs Kolkata Knight Riders, Chepauk stadium
On a slow tricky wicket, Chennai Super Kings were set a target of 108 by Kolkata Knight Riders. Even with a small total to defend, DK and co. never lost hope and were putting in everything to make a comeback in the game. It was the last ball of the 5th over, when Sunil Narine bowled a classic off-spin delivery to Suresh Raina, who went for a big shot against the spin but top edged it towards long on. Piyush Chawla, stationed at mid-on ran backwards, keeping his eyes on the ball and took a brilliant diving catch to produce a magical moment in the game.
Match No. 43
Kolkata Knight Riders vs Rajasthan Royals, Eden Gardens
Kolkata Knight Riders were in total control of the game after picking the top 3 in the first 10 overs Rajasthan Royals, who were chasing a target of 175. In the 11th over, Piyush Chawla came onto bowl and put pressure on the RR batsmen with an economical spell. He bowled a delivery in the slot for Ben Stokes, and the Englishman went for a big shot against the spin. The ball went quite high in the air towards long on but it couldn't clear Andre Russell who jumped high and plucked the ball out of thin air to catch it inches inside the boundary.
Match No. 56
Mumbai Indians vs Kolkata Knight Riders, Wankhede Stadium
The last match of the league stage saw Mumbai Indians beat Kolkata Knight Riders, but there was a top moment to talk about thanks to Dinesh Karthik's special catch. It was the very first ball right after the powerplay from Prasidh Krishna but Quinton De Kock got a bit carried away with the start they got and top edged a rising delivery which went right up in the air towards the fine leg region.
The skipper, Dinesh Karthik gave a call as soon as the ball went up in the air while running backwards, he had his eyes on the ball right through it and caught the ball with a full stretched dive. Everything was right about the catch and there was something to learn for all the budding cricketers.