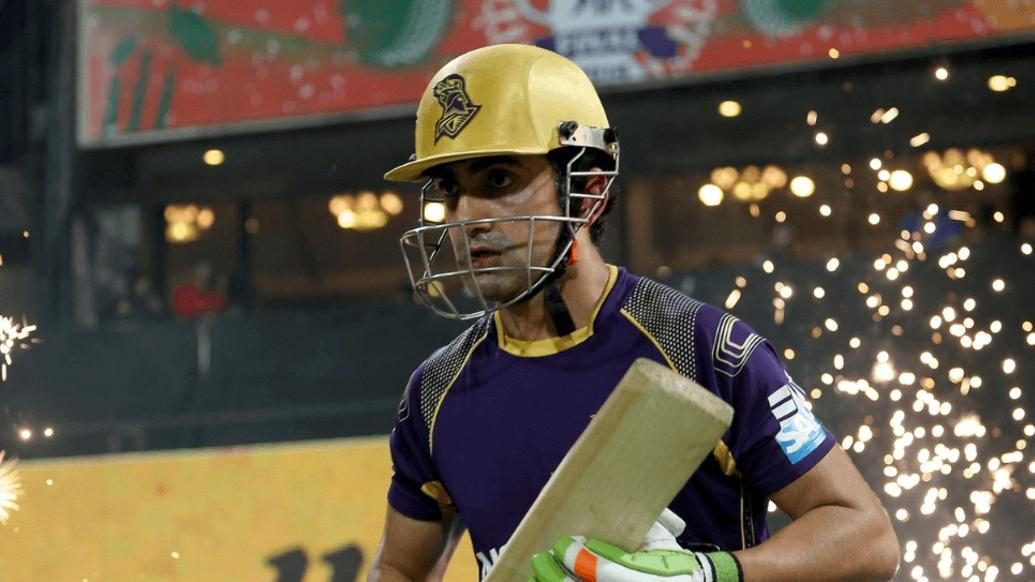 Gautam Gambhir, a man with 10,324 International runs for India and 4,217 runs in the IPL, announced his decision to step away from all forms of cricket on Tuesday (December 4), much to the grief of his fans across the cricketing world. Gambhir's contribution to Indian cricket is well known, but he also played a pivotal part in turning the fortunes of KKR in since joining the franchise in 2011. Under Gambhir's leadership, KKR created history by bringing to Kolkata its first IPL trophy.

As the legend parts ways with the sport, we turn the pages of our history with Gambhir, revisiting seven special moments from his seven seasons with us in Purple and Gold.

The Beginning - IPL 2011


There was a lot of pressure on Gautam Gambhir when he first took over as captain of KKR. Sourav Ganguly's exit didn't sit too well with some fans, and KKR needed someone who could bring these fans back to the stands. On 8th April 2015, Gambhir led the knights out for the first time. His unique style of captaincy helped us restrict CSK to 153 runs. When the chase began, he promoted others up the order to give more chances to the likes of Manoj Tiwary and Yusuf Pathan, demoting himself to No. 6, though we lost the match by a narrow two-run margin. In that very season, Gambhir went on to lead us to the IPL semis for the first time.
The First Glory - IPL 2012


After a solid show in Season 4, Gambhir and his squad, filled with a mix of experience and youth, were ready to begin the hunt for glory. A key addition to our armoury was the spin wizard from Trinidad & Tobago, Sunil Narine. It wasn't the perfect start as we lost our first 2 games of the season but it was our 7 victories on-the-trot that helped us seal the second place on the points table and enter the play-offs. We clinched a nail-biting encounter against CSK in the final to lay our hands on the trophy for the first time. Gautam was a key contributor from both the captaincy front and the batting front, amassing 590 runs (6 half-centuries) in the championship season.
The Run Machine - IPL 2013


Consistency is the key, and Gautam was the key-holder to it. A true team player who selflessly played for the team without bothering about personal accolades and plaudits. Gambhir scored three consecutive half-centuries in our 2013 IPL campaign that stood out for KKR in a rather disappointing season.

59 vs Royal Challengers Bangalore
53 vs Sunrisers Hyderabad
60 vs Kings XI Punjab

Champions 2.0 - IPL 2014

0, 0, 0, 1 - These were the first four scores of Gautam Gambhir's 2014 season. But the fighter in Gautam didn't let him give up and he managed to keep making vital contributions in our 7 match winning streak which helped us reach the play-offs. Two wins against Kings XI Punjab, one in the play-offs and one in the final made sure that we stood on the Champions podium for the second time.

A web against MS Dhoni - IPL 2015
A silly point, a short leg, a leg slip and a slip fielder. Seeing this setup is quite normal in a test match but Gambhir surprised everyone when he placed this field for MS Dhoni in IPL 2015. Although Dhoni's stay at the crease lasted only for four balls, it sent out a clear message from Gambhir on how aggressive he can be and not have any fear for a batsmen. There were similar field setups in IPL 2016 when Dhoni played for RPS, one of them at Eden Gardens that saw him score just 8 runs off 22 balls, his slowest strike rate in T20 cricket.
A Captain's Knock against SRH - IPL 2016
KKR started their IPL 2016 campaign with one win and one defeat. In their 3rd game against SRH, the bowlers did a good job in restricting the home team to 142 runs on the board on a slow wicket. Up stepped Gautam Gambhir in the run chase, he scored a fluent 90 runs from 60 balls and didn't look in any sorts of trouble while guiding his team home with ease.
Bold Moves - KKR v RCB, 23rd April 2017

The Royal Challengers had bundled us out for a moderate score of 131 runs courtesy of a special effort by spinners Yuzvendra Chahal & Pawan Negi. Seeing the opposition spinners would have induced any captain to try giving the ball to spinners but GG had other ideas in mind and went all guns blazing with the pace attack, he deployed all the pace options he had and it worked wonders as we cleaned them out for a meagre 49 runs, the lowest score in IPL history.


From setting brilliant fields, promoting youth, picking up key players at the auction and leading by example with performances with the bat, Gautam Gambhir was one player who defined the word LEADER. We thank him for the purple and gold memories and wish him best of luck for the next chapter of his life
Korbo Lorbo Jeetbo!