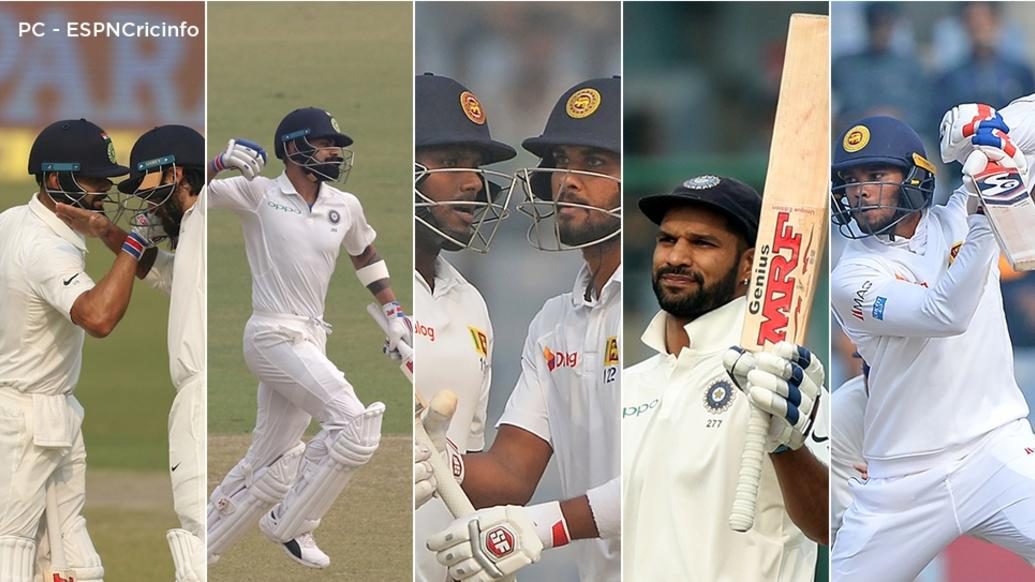 Sri Lanka displayed their best batting performance on the last day of the 3-match Test series as they were able to draw the third Test. India won the series and equaled Australia's record for most consecutive Test series win (9). Let's take a look at what exactly happened on each day.
Day 5
Going into the last day, Sri Lanka needed 379 runs to win the third Test and level the 3-match series 1-1. Looking at the pitch and the form of Indian spinners, it looked like a difficult task. Dhananjaya de Silva and Angelo Mathews, two established batsmen arrived at the crease with India looking to wrap up things as soon as possible. Both batsmen were looking comfortable as Indian bowlers bowled a probing line. But India struck in the sixth over of the day as Mathews (1) edged one to the slip fielder, Rahane. In-form Dinesh Chandimal joined de Silva and the duo looked rock solid thereafter. Young Dhananjaya de Silva played well against both spin and pace. Shami, Ishant, Ashwin and Jadeja all were at their best but could not remove him. Chandimal got a lifeline when he was bowled off Jadeja, but the bowler had bowled a no-ball. Sri Lanka went into lunch on 119/4, a great session for them.
Post-lunch, there was no complacency from the batsmen as they continued to fight. Kohli tried to vary his bowlers but to no effect. He brought Murali Vijay and himself as well. De Silva was showing his class though. He had an answer to everything what the Indian team was throwing at him. Chandimal, who looked confident, was dismissed by Ashwin for 36. De Silva then was joined by Roshen Silva. The debutant was out for 0 in the first innings and was under some pressure to perform. The two youngsters carried the good work on a turning fifth day pitch. They played every ball to its merit. Dhananjaya de Silva, completed his third Test hundred. He looked comfortable on every ball until he had to retire hurt on 119. With de Silva retiring hurt, India had a small opening. If they could pick two-three wickets then, the match would have certainly gone in their favour. But Niroshan Dickwella made sure none of this happened. At tea, they were 226/5 as the match was heading towards a draw.
With more two hours to go, Indian fast bowlers gave their all. But the Sri Lankan batsmen were equal to the task. They left the balls which were outside off and played which were on the stumps successfully. Debutant, Roshen Silva soon completed his maiden fifty with Dickwella playing positively. There were chances for the Indian team to take their wicket, but that didn't happen. Both teams called off the match when Sri Lanka were on 299/5.
Virat Kohli won the Man of the Match (243 and 50) and Man of the Series award (610 runs) for his consistent performances in the three matches.

Day 4
Sri Lanka were 356/9 at Stumps on Day 3. Dinesh Chandimal and Lakshan Sandakan came out with the former reaching to his 150 in the first over itself. After looking comfortable, the Sri Lankan skipper finally got out to Ishant Sharma on 164 to end the Sri Lankan innings on 373.
With already having a healthy lead, the Indian openers were cautious at start. Sri Lankan bowlers bowled a tight line. Vijay was dismissed rather cheaply for 9 as he edged one to Dickwella off Lakmal. Ajinkya Rahane, who was short on runs and confidence, was sent at number 3. But the plan didn't work as Rahane was seen struggling a bit. He tried to play some aggressive shots as well but to no effect. Dhawan, at the other end, had taken a cautious approach. Runs were hard to come by in the first hour as the visitors kept things quiet. Rahane, after playing 37 balls and scoring 10 runs, was finally out while trying to hit the ball out of the ground. Pujara came in at number 4 and the in-form batsman wasted no time to score runs. India went into lunch on 51/2.
Pujara was looking at his best post-break as well and his confidence was transferred to Dhawan, who was also playing his shots now. Pujara was scoring at a strike rate of 80 with hitting fours regularly. He missed his half-century by just one run when he edged to the first slip. Dhawan, who had got his eye in so far, completed his 50 and 2000 Test runs. But while trying to up the ante, he lost his wicket to Sandakan. It was Virat Kohli and Rohit Sharma's turn to entertain the Delhi crowd. India went into tea on 192/4 with the lead crossing 350 run mark.
Runs continued to flow with both batsmen not afraid to play the big shots. Kohli carried on with his great form and completed his 15th Test fifty but departed soon. Rohit too, reached to his fifty as India declared on 246/5, keeping a target of 410 to chase.
Sri Lanka wanted a strong reply but could not get one as Shami bowled a hostile spell of fast bowling. He got his man when Sadeera Samarawickrama (5) got out to a bouncer. Sri Lanka were looking comfortable to see off the day before Jadeja struck twice in the same over to send Karunaratne (13) and Lakmal (0) back. The visitors are now 31/3 and need another 379 runs to win the match and level the series 1-1. It is undoubtedly a steep mountain to climb but we will what happens on the last day.
Day 3
Dinesh Chandimal and Angelo Mathews stepped on the field on Day 3 with Sri Lanka being 131/3. Both experience batsmen rose to the occasion as they survived the entire session without any casualties for the visitors. Chandimal brought up his third fifty in three successive innings and his 16th overall. Both senior batsmen applied themselves well in the middle as they played some fabulous strokes throughout the session. The visitors entered the Lunch break, with the scoreboard reading 192/3.
Post break, the Indian bowlers tried to tighten the screws but a gritty knock by the former Sri Lankan skipper, Mathews kept the bowlers at bay. Soon he brought up his 8th Test ton. The partnership kept on flourishing with each passing run. This was an actual test of patience for Kohli and company. Just when the Lankans were about to approach the tea break, Ashwin got rid of Mathews (111) by ending a 181-run stand. Tea would have surely tasted much sweeter for Sri Lanka if Ashwin wouldn't have spoiled their tea party by removing Mathews at the stroke of the tea break.
The skipper continued to lead the team from the front as Chandimal notched up his 10th Test ton post the interval. Samarawickrama (33) and Chandimal stitched a good 61-run partnership before Ishant Sharma sent him back to the pavilion. Ashwin too joined the party once again as the debutant, Roshen Silva (0) got trapped in his web. Things started getting worse for the visitors thereafter. In the attempt for a cut shot, Dickwella (0) lost his concentration as the ball crashed onto the stumps. Chandimal constantly ran short of partners. Shami added more venom by removing Lakmal (5), who darted one to Saha. All the hard work that the Lankans did in the morning session went in vain. Jadeja picked up the final wicket of the day as Gamage (1) got trapped in front of the stumps.
Bad light forced early stumps on day 3 with Sri Lanka still 180 runs behind India's first innings total. Chandimal (147*) is still out there along with Sandakan (0*) but the hosts just need one more scalp to end Sri Lanka's misery. Overall it was a roller-coaster kind of day, where both teams had their shares of up and downs. In the end, team India walked off the field with happy faces.
Day 2
Virat Kohli and Rohit Sharma stepped out to take guard on Day 2 with India posting a total of 371/4 on the first day. Sri Lankan bowlers tried to get some early wickets but the Indian pair started confidently. Runs were coming rather easily with Kohli continuing his rich vein of form to make look batting, effortless. Rohit too, was playing his natural game at the other end. Kohli, who was playing on 156 at the start of the day, completed a record sixth double century. He became the first captain to score six double centuries in the history of Test cricket. The duo completed their 100-run partnership soon after and was followed by Rohit's eighth half-century in Tests. India went into lunch on 500/5 with the Mumbai batsman falling on the second-last ball before the break.
Kohli carried on with his run-making post-lunch with Ravichandran Ashwin joining him. But play had to be stopped at around 12.30 with Lahiru Gamage having a problem with his breathing. After around 10-12 minutes of break, play resumed and Ashwin (4) threw his wicket away. The problems continued for the Sri Lankan fielders but Kohli batted on. But as he was looking well-set to score a 250, Sandakan took his wicket. The Indian skipper made 243 before he got a well-deserved standing ovation from his home crowd. India continued to bat further but soon declared at 536/7.
With Sadeera Samarawickrama having a concussion and not being available to bat, Sri Lanka opened with Dimuth Karunaratne and Dilruwan Perera. But Mohammed Shami struck on the first ball as the former edged one to Saha. Dhananjaya de Silva, who came in for this match had to face the music now. He didn't last long with Ishant getting him out LBW for just 1 run. Sri Lanka were 14/2 in no time and needed a partnership. Dilruwan Perera, who was promoted to open the batting, played really well later and he, along with Mathews made sure they don't suffer more blows.
But after a good partnership, Jadeja struck to remove Perera (42). Chandimal joined Mathews and the most experienced Sri Lankan pair saw the day out. Mathews completed his 29th Test fifty as Sri Lanka showed resilience. At stumps, Sri Lanka were 131/3 with Mathews (57*) and Chandimal (25*) on the crease.
Day 1
After coming on the back of defeating Sri Lanka by an innings & 239 runs in the 2nd Test, India looked to continue the momentum & get to a record-equalling ninth consecutive series win. Local boy & skipper, Virat Kohli won the toss & didn't hesitate to bat first at the Feroz Shah Kotla. Mohammed Shami & Shikhar Dhawan were included in the playing XI for Umesh Yadav & KL Rahul. The visitors made three changes as Lakshan Sandakan, Roshen Silva and Dhananjaya De Silva came in the team for Lahiru Thirimanne, Dasun Shanaka and Rangana Herath.
The Indian openers, Murali Vijay & Shikhar Dhawan started off positively scoring runs at a good rate in the starting overs. Dilruwan Perera got the first wicket for Sri Lanka as Dhawan (23) top-edged a sweep shot to Lakmal at deep backward square that he played from an outside off delivery. Perera got to his 100th Test wicket with that scalp. Next man to join Vijay was the ever solid, Cheteshwar Pujara with India at 42-1.
The duo built a small partnership before Lahiru Gamage executed a plan perfectly to dismiss Pujara (23) off a glance off his hip & straight to the leg slip. Indian captain, Kohli came in to the crease at 78-2 & India looking to get the upper hand on the first day. On the stroke of lunch, Vijay got to his 16th half-century in Tests, getting some help from an overthrow that went to the boundary. The scoreboard read 116-2 with Vijay (51*) & Kohli (17*) looking to carry on their good form.
The second session started with Kohli getting to the 5000-run mark in Tests, becoming the fourth fastest to reach the milestone. Runs were flowing with ease for the hosts with Vijay & Kohli finding the boundaries to keep Sri Lanka under pressure. Kohli reached his half-century in just 52 balls & was taking the attack to the bowlers. The two batsmen rotated the strike well to keep the runs coming & the partnership getting stronger. At the end of 50 overs, India were 217-2 with Vijay (85*) & Kohli (82*) inching closer to their centuries.
Vijay got to his 11th Test century with a boundary & followed it with a unique dab celebration with Kohli. The captain followed him, getting to his 20th Test century, 3rd of the series & first on his home ground. He also became the first captain to score 3 centuries in every Test of a 3-match series. There was no respite for the bowlers as India got to the 300-run mark in the 72nd over & a big partnership giving India the momentum.
From there on, Vijay & Kohli were rotating the strike well with the field open up to try & slow the scoring rate. The solid duo enjoyed the freedom given as Vijay got to his 4th 150+ score & Kohli getting there as well with 3 runs at deep cover in the 85th over. Just when, India were hoping to end the day without losing any more wickets, Sandakan ended Vijay's (155) innings as he was stumped off a tossed up delivery. Rahane (1) also fell to Sandakan while playing a drive & failing to get his foot back on time inside the crease. Two overs & two stumpings for Dickwella off Sandakan's bowling gave Sri Lanka some happiness on a tough day.
Kohli (156*) & Rohit (6*) made sure that there were no more casualties for India before stumps on Day 1. The hosts ended at 371/4 & will look to pile up a huge total in the 1st innings.