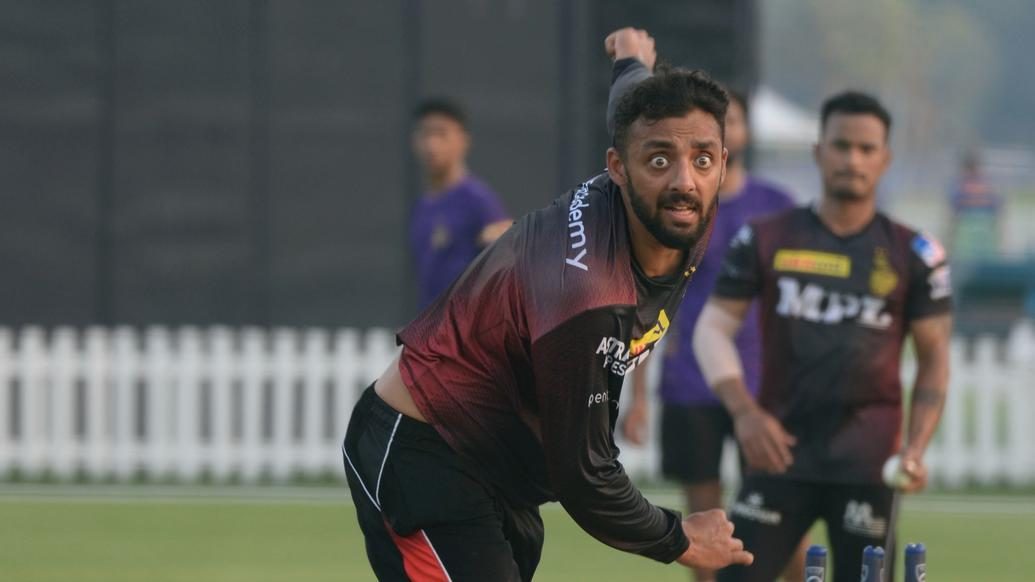 Getting picked in the India squad for his first ever ICC T20 World Cup might be one of his biggest moments in life but KKR spinner Varun Chakaravarthy is yet not ready to get overwhelmed by the news. The 30-year-old would rather keep it quaint when it came to celebrating the moment as he believed he had a bigger duty lying ahead.
"My wife was really happy. We had a nice dinner after that (the news). I also spoke to my parents and they were all happy. It was all a small celebration. The bigger duty is in front of us. So, keeping that in mind, I am not celebrating too much now itself," said the talented cricketer, who is currently training with KKR in Abu Dhabi.
"I feel privileged and honoured to represent India for the World Cup and I hope to really make it count," added Varun on the sidelines of a training session.
Varun felt playing in the UAE for IPL would be a great boost to prepare for the World Cup as the getting used to the conditions would mean an early advantage. "It will really help the players who are playing here in UAE (for IPL) because you can definitely consider it as a good preparation. Getting to know how the climate is in Dubai and Abu Dhabi and how the dew comes in, how the pitches can play - all this knowledge is certainly going to help us in the World Cup," he said.
View this post on Instagram
Varun, who played his first international T20 match in Sri Lanka last month, has had a phenomenal rise from tennis ball cricket. The then KKR skipper Dinesh Karthik noticed his talent while playing in Tamil Nadu's domestic circuit and brought him in to play in Purple and Gold. The journey ever since has been an inspiring one and Varun acknowledged it by crediting his KKR mentor Abhishek Nayar and Karthik for his improved show.
"I would like to thank Abhishek Nayar for having faith in me and picking me up for KKR. Dinesh Karthik has a big role too for whatever I am today. After 2019 IPL, I was carrying an injury and I couldn't play any domestic cricket. But KKR still had faith in me and picked me. Whenever I had free time, I used to go to Mumbai and practise in the KKR Academy, which definitely helped me a lot. All my practice in the last two-three years have happened at KKR Academy. So whatever little I have improved is because of that and I would like to thank Abhishek Nayar for being a great mentor," Varun added.