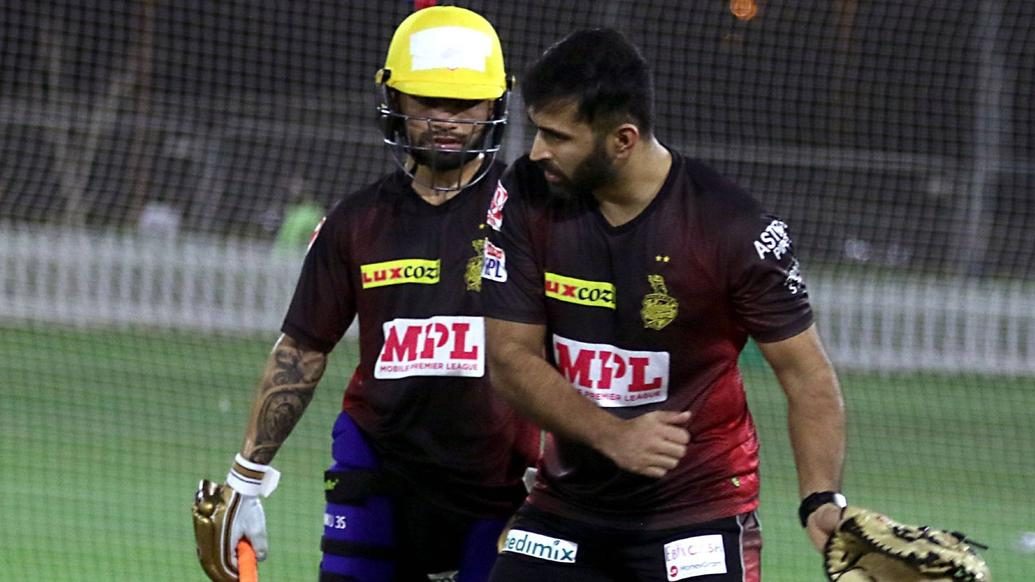 With the preparations for the 13th edition of the Dream 11 Indian Premier League in full swing, the KKR players have switched to an evening open-net session, after three days of net-practice at the Sheikh Zayed Stadium training facility in Abu Dhabi. We caught up with Abhishek Nayar, the assistant coach, to find out more. Excerpts:

How was today's session - it seemed different from what we have seen over the past week...
Nayar: The thought process behind the open-net session was that a lot of our guys were coming back to action after 4-5 months where they haven't actually practised a lot of cricket. For the first couple of days, we tried to get a lot of quantity, made sure they hit a lot of balls in the nets and spent a lot of time middling the ball.
Today, we thought we would do it slightly differently now that we've got the option of open-net sessions available. We wanted to simulate what they may face in a game. We are trying to make sure that the intensity is a lot higher, to give them a feel of an open ground. We have the breeze here, the pitch, the outfield. So, just letting them get a better feel, more similar to what they may face in the game. So, we are just trying to build up slowly and from here we are going to take the intensity up close to the tournament.
Coming off the long break, did the players look rusty or were they quickly back to the grind? We saw some big hits from some of the guys...
Nayar: Most of the guys are looking good. This was just the fourth session today. But things are already looking good. Like you said, some of them are middling it well, and the consistency will only get better. But the great part of it is everyone is in a great frame of mind. The last 4-5 months though they didn't get to practise, they trained really hard. So, everyone is looking really fit and they are moving really well, which kind of helps in the batting and you see the transition happen quite quickly. So, in four days, they have gone really fast in terms of how they progressed. I am pretty sure in another 3-4 days and a couple of practice-games down the line, they will all be match-ready.
The weather conditions in UAE is very different to what we have in India. Does that play a big role?
Nayar: We have a lot of evening games coming up. So we are keeping that in mind - the fact that the games here will start at 6 O'clock, which is 7.30PM IST. We will play in that twilight period which is quite difficult in cricket because there is shadow and you sight the ball differently. So, we are just trying to get used to both conditions - afternoon and evening. There may be a few-day games as well. We know the temperature here is pretty high and it goes up to 40-44 degrees. In the evening, there is a good breeze going around. It's an open ground and the ball moves a bit. So, we are just getting used to the conditions. Especially because everyone has been indoors for so long, spending time in different conditions at different times of the day is important. It's a different territory. A lot of guys have never played here. So, for them it's just to get acclimatised and feel what it's like playing in different times of the day, what the recovery pattern is and have a better understanding.
Our Indian boys have been shaping up well but even our foreign players are doing great, be it Banton, Morgan, Narine or Russell. Isn't that a great feeling?
Nayar: It's great. Every time when you see these guys coming into a tournament with good form and rhythm, it always gives you a great feeling. You know that they are playing top oppositions and they are doing exceedingly well. Like you said, Tom Banton, Morgan and Narine being in good form. So, everyone is doing really well. Russ, the big man, is always threatening. So, I think just knowing that guys like Cummins are going to play competitive cricket and then come into IPL, just gives us an edge. We know that their bodies will be used to playing high intensity cricket, which is really important going into such a big tournament as the IPL. It's always good news when our big guns are firing. They will come here and spread their positivity.
Finally, you were at the CPL last year with the TKR boys. They have currently got 7 wins in 7 games in the ongoing CPL...
Nayar: I think it's tremendous. Last year I was there with Baz (Brendon McCullum) and we had a great time. But to see the rhythm this year and everyone stepping in, that's the beauty of it. We have played in tough conditions but everyone is standing up and picking wickets, Akeal is doing well. It's great to see some of the youngsters come up and perform. On the outside, when I talk to Baz now on how TKR is doing and Venky sir watches the match, it feels amazing. It's a great vibe to be part of TKR and that setup. We saw some videos of the football game that's going on which is of high intensity but it's amazing to be part of that dressing room. I am pretty sure that Knight Riders family there will pick the Cup this time.