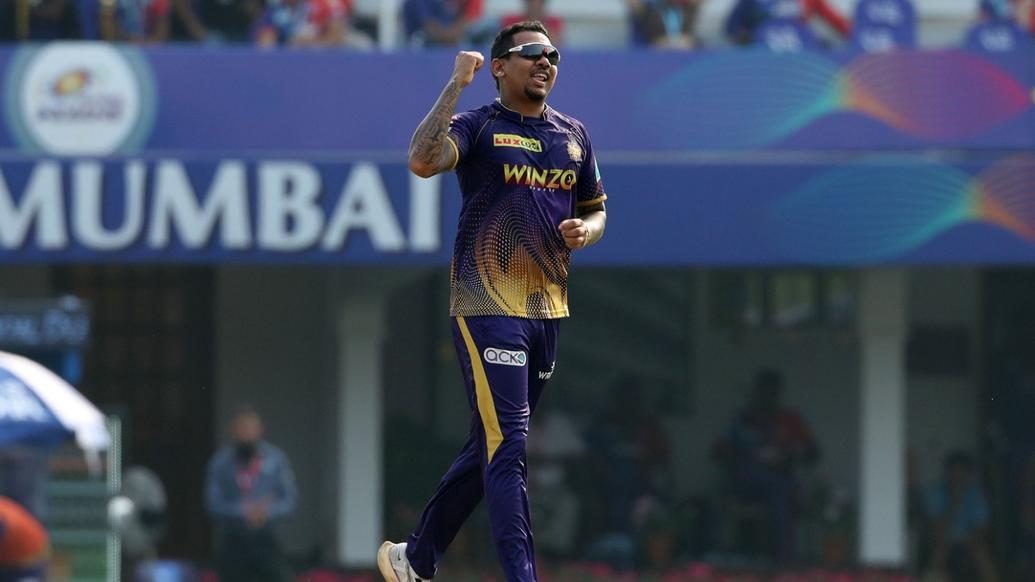 On Monday (April 18), the West Inndian mystery spinner Sunil Narine is set to play his 150th game for Kolkata Knight Riders, completing ten years with the franchise. We spoke to him about his journey, the moments that stood out and his aspirations going forward:
Q. As you complete 10 years with KKR, do you feel a sense of achievement because 10 years is a long time to be playing for one franchise and it has seen multiple mega-auctions and mini-auctions, where you have been retained too.

Sunil Narine: Yeah I have always told Venky [Mysore, CEO] that hopefully I don't play for any other franchise, I have loved my stay at KKR so hopefully I start and finish here. I think it's a great achievement. You don't see many overseas players stay with one franchise. Luckily, I am one of them and hopefully I can continue to be with them in the future.

Q. Ten years for any player is a big achievement, be it the IPL or T20 cricket but for a bowler who depends a lot on the mystery aspect of spin to keep adding new arsenal to your repertoire year-by-year. In your scheme of things, how do you look back on the journey where you could innovate with every passing year?

SN: I think it is based on practice and thinking about new things especially with different variations. It's tough to outing the batters with so many cameras so the best thing you can do is try and see what happens on the cricket field. I think the more you practice, the more you can put it to use in the game so once you are bowling to the guys you are accustomed to bowling to and still get them slightly troubled, I think it gets much easier.

Q. When it comes to spin bowlers, a lot comes from the fact that you need a captain to support you and give you the fields you are asking for. Can you talk us about the different captains you have played under at KKR and the camaraderie that you have shared with them?

SN: I think generally based on the bowler and the attacking nature of me, they generally tend to give me whatever field I ask for. So I think all captains have been more or less similar because they have tried using me in a similar way. All the success I had, I don't think it's tough for me, I have had a good relationship with all the captains. When we go on the field, I ask them what they need of me and then I try to produce whatever is possible.

Q. Even in this season, you have bowled at an economy of 5.00 run per over and in the last two games, oppositionsn have scored a lot of runs, how satisfying is it for you that even when the going is tough, with the dew on the field too, that you are managing to bowl with such a low economy?

SN: I think over the last two-three years, I have practiced the most in my life. So, the more you do it, the more consistent you can be but it just goes on form at the time. I am feeling good about myself so it helps and based on the situation, if our team is going for runs, I just try to keep it as tight as possible. If we are doing good, I try to pick up wickets. I bowl based on whatever is front of me so I don't really plan too much before the game.
Q. Do you think what happened in IPL 2020, where it was important to rectify your action and add more variations, pushed you towards practicing a lot more?

SN: Yeah what happened was probably a few years ago. I think you can never be too comfortable, you do have to continue practicing as much as you can because if you don't, it's easy to say that I am good and pack up your boots and start watching cricket. It was all on me to keep training and working on my game to try to stay relevant to the game and try to get back where I was when I started.

Q. When was the first time you tried the back of the hand ball, even in the practice sessions?

SN: I started constantly bowling it two years ago. I kept trying it but it wasn't feeling great even when Robin Uthappa was in KKR, he was like, 'Why don't you start bowling it?' I was like' 'I don't want to start it as yet. I just want to make sure it comes out well'. Any time you try something new and it doesn't go great, people can bash you and say whatever but if you wait for the right time to do what is needed and try it based on the conditions, it will suit you more and you can execute it with more confidence.

Q. How confident are you with the delivery now?
SN: Probably the last two years, when I had just started bowling it, more like every ball, it was slightly tough and probably in the last nine months or so, I have been more confident with it. I have been doing a lot more bowling than I used to do in the past when I just started. I think it's about learning and knowing what you have to do and be confident when the game starts.

Q. Whose idea was it to bowl with that action?
SN: It was my own idea hiding the ball but I worked very closely with Carl Crowe and the first time he saw it, he said it was something we had to try to reach. It gives me a slight upper hand because batters can only see the ball at the point-of-delivery. He was more keen to getting it started even sooner but it all worked out the way it was supposed to work out.

Q. Which is your favourite form of dismissal?
SN: I like getting LBWs and bowled. Earlier it was way lesser but I like it when the batters think it's going the opposite way but it turns in the opposite direction and they get bowled through the gate.

Q. When you get hit for a six, what do you tell yourself? In T20s and IPL, especially, the boundaries are quite small with the dew and batters batting with heavier bats, how do you look to bounce back?

SN: It's basically if I bowl a bad ball and get hit for a six, obviously i have to bowl a better ball. If I bowl a good ball and the batter hits it for a six, I don't try to read too much into it. I try to bowl maybe the same ball because batters don't quite the same shot consistently, they try something else. I try to keep it as simple as possible.

Q. Right from 2012, when you troubled the great Sachin Tendulkar with your deliveries, the broadcasters once got a request from Tendulkar during the Champions League T20 to give him footage of you bowling from both angles. How do you feel when the legend himself wants to analyse given your mystery?

SN: It gives you a good feeling knowing that one of the greatest batters to ever play the game wants to focus on you but it shows that he is dedicated and he wants to be on the top of his game and doesn't want to be surprised when the game comes. I think for any player or youngster coming up, always strive to be the best and work on the fine details.

Q. In all these years of IPL, who do you think has played you the best?

SN: I will probably have to say Virender Sehwag. I always found it tough because he was a guy who always kept the game going no matter what situation the team was in, he kept batting the way he did.

Q. Who's your bunny? Who's the batter who you come up against and think you are going to get him?

SN: I wouldn't say I have a bunny or anything (laughs) but you have guys you feel more confident against but I won't say who! I will leave it as a secret and just keep it tight and get wickets whenever possible.

Q. In the ten year journey, apart from the two years when you won the title, you also got the Most Valuable Player award for your all-round performances, if you have to pick a batting moment for yourself, which one would it be?

SN: Definitely when I scored the fastest fifty at that time. Opening the batting was new and guys were bowling to their plans and weren't taking me as seriously as now so I think I was enjoying it, just having success and going out there being able to do that in the IPL, which is perhaps the toughest T20 franchise league in the world, it was a great batting experience.

Q. Do you ever feel like innovating your batting and adding new shots to your repertoire the same way you did with your bowling?

SN: I wouldn't say I add shots to my repertoire. I think just trying to get better, being more aware of where the bowlers were going to bowl and focusing on continuing to do what I have been doing. Is going to develop me as a batter.

Q. You were very close to your father in the initial few years of the IPL. Now that you have completed 10 years, how much do you think about him and want to speak to him about the journey itself?

SN: Every time I play cricket! He was a big part of my life in cricket. If it wasn't for him, I don't think I would have played cricket. Every time I take the field, he's the first person who comes to mind.

Q. Any particular moment you cherish with him from cricket's perspective?

SN: Once in primary school, on Mondays and Fridays, we played football. He used to play cricket and I joined him to play after school. Even in the garage, he bowled and he asked me to take my time but when you hit the ball hard, you don't listen much. He had books of Sunil Gavaskar and wanted me to be a technically correct batter. He always believed in me as a batter and when he passed away, I made a conscious effort to focus on batting a little more and see what the outcome could be.

Q. When did you realise that your name is based on the legend Sunil Gavaskar himself?

SN: At a very young age, my father told me the reason why he gave me his name. It was because of cricket and since my childhood, I have been playing cricket. Nothing else for me.

Q. Did you ever get a chance to tell Mr. Gavaskar this story?
SN: In the initial few years itself, one of the guys asked how I got my name and we spoke a little bit but I hardly got a conversation with him.

Q. Now that you are set to play your 150th game for KKR, how do you envision the journey ahead in terms of milestones and aspirations?
SN: It's a long journey, 150 games and continuing. My aspirations are to finish the IPL in KKR colours and hopefully after my playing career, I can join the team as a bowling coach because I have been doing so much of bowling and learning about the action in terms of what helps and what doesn't. I think I want to give back and hopefully, the door is open and continue to be back in the Purple and Gold.

Q. What did becoming a dad mean to you as a person and a player?
SN: Becoming a father, you tend to think differently. You are not as free-flowing and free-spending as you were because now you have to start putting things in place about their future, when they have to go to college and other sort of things. It's a good thing and it changes your mindset towards life.

Q. So no more suitcases full of chips?
SN: No i don't think that would change! Those are the comforts you have being away from home. Those are the little things for you to enjoy.