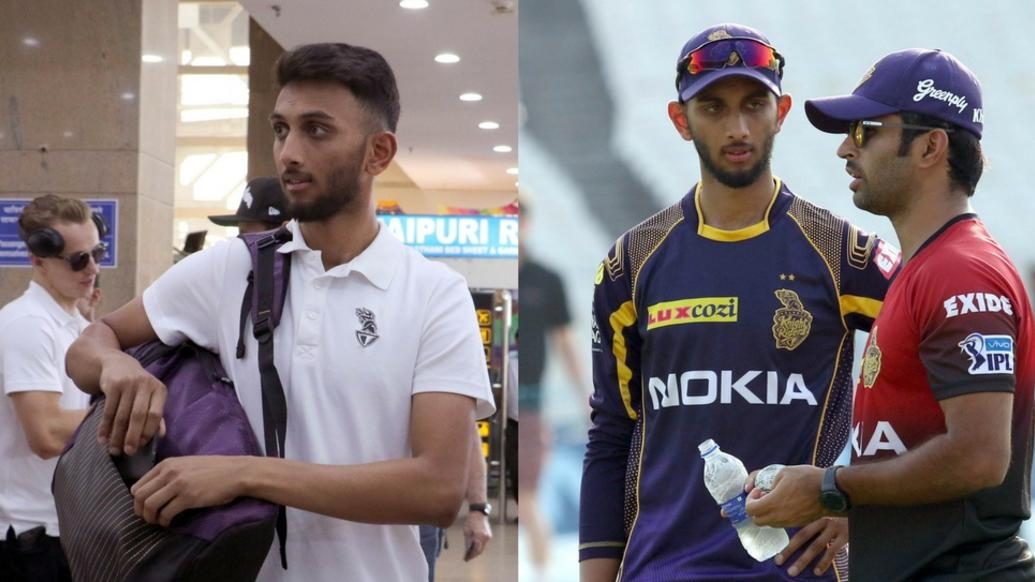 A couple of weeks ago, we had a new member join the Kolkata Knight Riders family. Prasidh Krishna, the young fast bowler from Karnataka, replaced Kamlesh Nagarkoti, who was unfortunately ruled out of the 2018 Indian Premier League with a foot injury. Though Prasidh is yet to make an appearance in the playing XI, he has impressed everyone with his bowling at the nets. Prasidh, in fact, was around when KKR played their two warm-up games ahead of the campaign, and bowled a few good spells alongside S Arvind, his former Karnataka teammate, during that stint.
A quick Chat with Prasidh:
How has the experience been so far with KKR?
Prasidh: I am happy I am in Kolkata, because Eden Gardens has been a good hunting ground for me for the past two years. So it's like a blessing in disguise, getting a call-up from Kolkata Knight Riders.
How does it feel having guys like Jacques Kallis, Heath Streak and Simon Katich coaching you?
Prasidh: They are really good as coaches. That has to be the case for what they have been as cricketers on the field in their days. They are the right people for youngsters like me, because they tell you the right things without getting too technical. They teach you how to be more tactical, and that gives us a lot of confidence.
Was having guys like Robin Uthappa, Vinay Kumar, and AR Srikkanth a comforting feeling, since you too, hail from Karnataka?
Prasidh: Definitely. Those three gave me a feeling of comfort when I first came in, when I did not know anyone else. Vinay, Robin and all of us have been playing together for the last two years. It surely made the first few days easy for me.
But it didn't take too long to get used to the dressing room culture over here. Everyone is very nice, even the support staff, who make you feel at home.
KKR will soon be travelling to Bangalore, to play Royal Challengers Bangalore. How will it feel being part of an opposition camp at Chinnaswamy Stadium
Prasidh: It will be special, but I would like to see us go there and prove a point. I hope KKR win the game there.
***
It's a pleasure to have Prasidh among us. Here's a quick look at a few lesser-known facts about the 22-year-old fast bowler:
#A freak call-up
Prasidh earned his first call-up to the state side in 2015, and his first opportunity came following an injury to Vinay Kumar, who was leading Karnataka at that time.
# Wicket off the 1st ball
You read that right! The only first-class match the right-arm fast bowler has played in, he found himself against a challenging Bangladesh A team. With the first ball of the second over, he removed Rony Talukdar, and ended the first innings with impressive figures of 5/49 in 12 overs
# Jeff Thomson's tutelage
Prasidh's potential got the recognition and he went for a high-intensity training program at Cricket Australia's Centre of Excellence program under the mentorship of legendary fast bowler Jeff Thompson himself.
# Career Stats
In 19 List-A games, Prasidh has taken 33 wickets, with best bowling figures of 6/33. The pacer has also played three T20s for his state and taken 4 wickets with best bowling figures of 2/8.