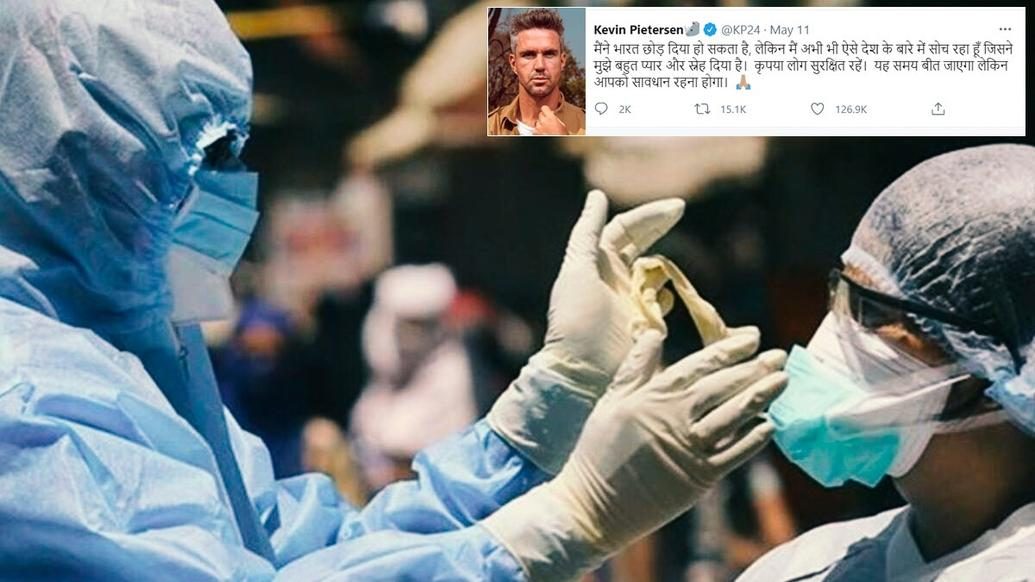 India has been badly hit by the second wave of the Covid 19 pandemic which has led to the suspension of IPL 2021. Most of the overseas players, commentators and staff have headed back to their respective countries but their hearts still lie with the people of India as they continue their fight against the deadly virus.
The cricket fraternity have left heart-warming messages for India praying for the country's well-being. Kevin Pietersen, who was part of the IPL commentary panel, was one of the many who took to social media to share his support to India.
मैंने भारत छोड़ दिया हो सकता है, लेकिन मैं अभी भी ऐसे देश के बारे में सोच रहा हूँ जिसने मुझे बहुत प्यार और स्नेह दिया है। कृपया लोग सुरक्षित रहें। यह समय बीत जाएगा लेकिन आपको सावधान रहना होगा। 🙏🏽

— Kevin Pietersen🦏 (@KP24) May 11, 2021
The tweet, which was posted in Hindi, meant, "I may have left India but I am still thinking about the people of India who have showered so much love on me. Kindly be safe. This too shall pass but you need to be alert."
Besides Pietersen, also joining the list who showed solidarity with India in these trying times are the likes of Alan Wilkins, Simon Doull, Tom Moody, Michael Slater and Lisa Sthalekar.
Following are some of their tweets, wishing India a speedy recovery:
I left India 🇮🇳 today with such a heavy heart!! I know you are all hurting. I will do everything I can to support you and I will be back as soon as I can, standing beside you once again. #incredibleindia #staystrong #youarenotalone pic.twitter.com/g70dTaB6Le

— Lisa Sthalekar (@sthalekar93) May 6, 2021
Above all my love and prayers to every Indian. You have been nothing but amazing to me every time I've been there. Please stay safe. Xx

— Michael Slater (@mj_slats) May 5, 2021
On the way back. #hometime

It's been real.
Love and prayers for you India.#ipl #maskup #doublemask #staysafe #covidtimes https://t.co/rjepnSl4FS

— Mpumelelo Mbangwa (@mmbangwa) May 6, 2021
Leaving India 🇮🇳 with a heavy heart ❤️ and with prayers for the people of this country which over decades has been extraordinarily kind to me. Please take care of yourselves and your families. 🙏🇮🇳

— Alan Wilkins (@alanwilkins22) May 6, 2021
Dear India, You have given me so much over so many years and I am sorry to be leaving you in such trying times. To those who are suffering my heart go's out to you and your families. Please do what you can to stay safe. Until next time take care. #india #cricket #love

— Simon Doull (@Sdoull) May 5, 2021
To those who are suffering my heart is filled with love for you and your families, I pray for your safety and well-being.
Please do what you can to stay at home and be safe.
Thank you for your kind support and warm hospitality once again, until we meet again, take care.

— Tom Moody (@TomMoodyCricket) May 6, 2021