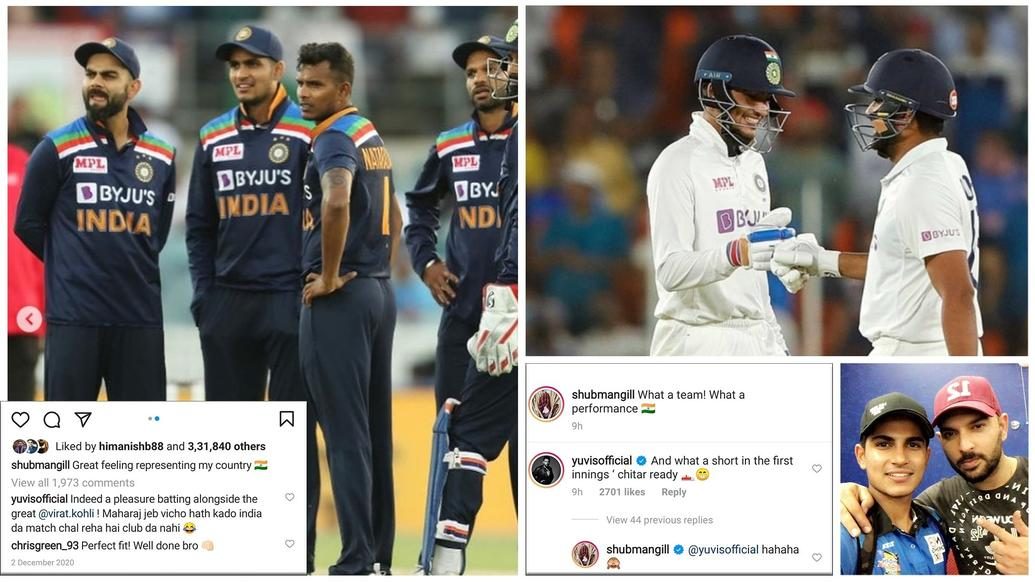 Our young Knight Shubman Gill has been hailed for his batting temperament time and again by cricket connoisseurs. His performance in the series Down Under (2020-21) was more than just impressive as he returned with the fourth highest number of runs (259 runs at 51.80 average) in the series from three Test matches. The 21-year-old from Punjab, however, has been under a close watch of former India player Yuvraj Singh.
Yuvraj, who belongs to Punjab as well, has been closely monitoring the youngster's growth and has even gone on to mentor him before the Australian series to prepare him for chin music. The duo shares a special camaraderie and hence we often see Yuvraj taking light-hearted digs at the young batsman on social media.
Shubman, who was part of the winning Indian XI of yesterday's Pink Ball Test against England, had gone on to post a couple of photos on Instagram after the victory following which he was trolled by Yuvraj, albeit in a loving way.
While Shubman captioned his post "What a team! What a performance", Yuvraj left a note of caution for the youngster, "And what a short (shot) in the first innings ' chitar ready 👟😁" (get ready to be slapped). The comment indicated at the poor pull shot Shubman had played off a short ball to get out in the first innings of the match.
View this post on Instagram
Shubman was trained by Yuvraj at a camp just before IPL 2020 where the latter would just throw short balls at him from different angles. No wonder, Yuvraj seemed miffed at Shubman's shot selection.
This is not the first time that Yuvraj took to Instagram to pull up his disciple. Earlier during the 3rd ODI against Australia, he left a comment against one of Shubman's posts, advising him not to put his hands into the trouser pockets while playing for India.
View this post on Instagram