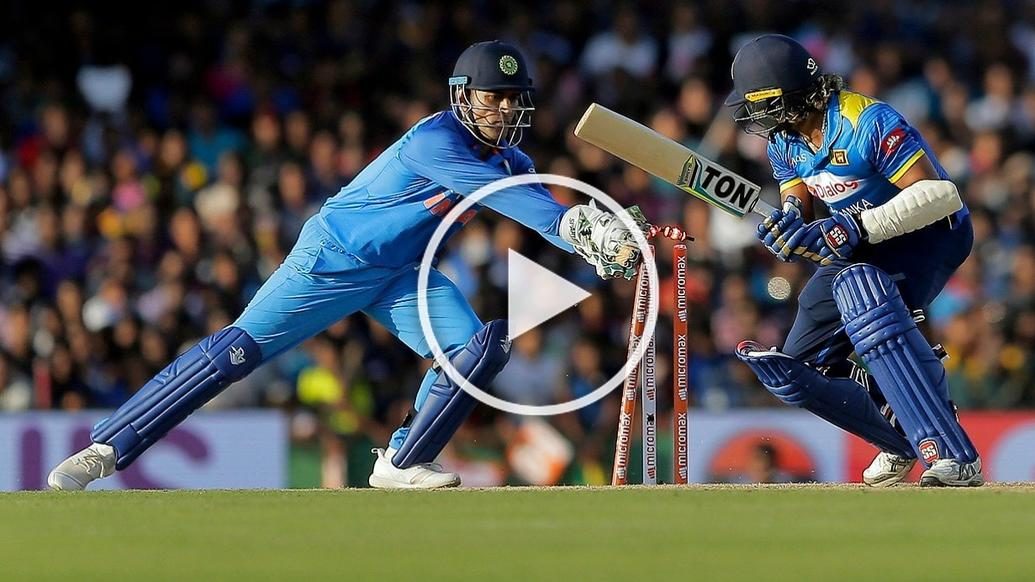 Wicket-keeping might often feel like a thankless job but we are thankful to MS Dhoni for his unflinching efforts behind the stumps for India over the years. His mastery has given us enough reasons to work on our own reflexes and try to be as nimble as "Captain Cool"! As the former India skipper turns 40 today (July 7th), we look back at some of his lightning-quick moments with the gloves in international cricket.
Vs Australia in 2019 (Ranchi)
Presenting to you, Dhoni's signature run out ploy! In the third ODI of the Australia tour of India in 2018-19, Australia were on track for a strong total, having lost just 2 wickets for 258 runs until the 42nd over. Glenn Maxwell was not out at 47 off 31 balls and he tried to sneak home a quick single from the non-striker's end off a Shaun Marsh shot. Thanks to a brilliant piece of fielding and throw from Ravindra Jadeja, Dhoni could use his guile and reflexes to take off the bails through a casual flick of his wrist and send back the dangerous Maxwell.
Vs West Indies, 2018 (Mumbai)
Dhoni's glovework to dismiss Keemo Paul in the 4th ODI of the 2018 West Indies Tour of India was at a supersonic speed. The batter was drawn out by Ravindra Jadeja with a length ball outside off and Dhoni made no delay in dislodging the stumps. While Jadeja inquired of Dhoni if he got his man, Dhoni's cheeky smile said it all as the batsman walked back even before third umpire's decision. "Quick as a flash", as Sunil Gavaskar put out correctly from the commentary box!
Vs Sri Lanka, 2019 (Leeds)
It's always wise to think twice before stepping out of your crease when MSD is standing up close behind the wicket. Kusal Mendis of Sri Lanka (44th match, Cricket World Cup, 2019) lacked the understanding and the Jadeja-Dhoni combination did the trick again. A slower one and Mendis was lured to dance down the track only to miss it entirely! Dhoni, as usual, made no mistake in taking off the bails in a jiffy. He also took three catches in the match, one of them coming in the very next over of the stumping to dismiss Avishka Fernando.
Vs Afghanistan, 2019 (Southampton)
This was another ICC Cricket World Cup 2019 affair. Chasing India's below-par 224, Afghanistan were looking for some tail support, having lost the first 6 wickets for 166. Rashid Khan came in at No. 8 and played a sensible knock of 16-ball 14 before Yuzvendra Chahal turned one away from Rashid. Out on his long-stretched front foot, the latter missed it completely and Dhoni, on the prowl, latched onto the opportunity without further ado. The wicket was a crucial piece of success as Md Nabi and Rashid had started developing a strong partnership and Afghanistan were inching closer to a win.
Vs Australia, 2019 (Hyderabad)
India were playing Australia in the first ODI of the series. Batting first, Australia got off to a mediocre start. Peter Handscomb, walking in at No. 4, was building up slowly but was disguised by Kuldeep's variation. Handscomb charged down the track but found no connect with the bat. Dhoni, cool as a cucumber, took the bails off in a flash to show Handscomb the way out.