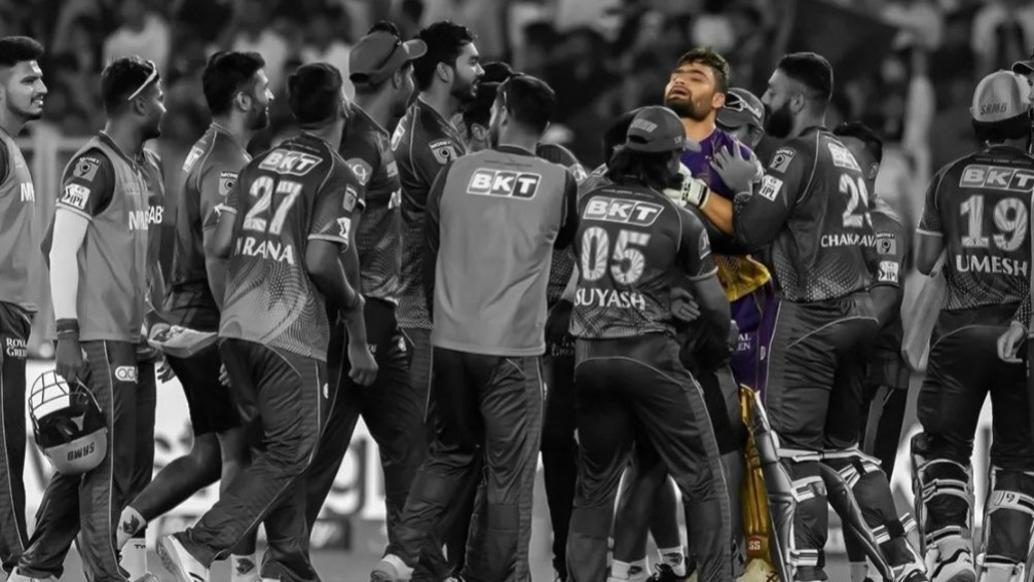 Over the last couple of seasons, Rinku Singh has started to show us why exactly the Knights think tank has reposed their faith in him through the ups and down over the last 4 years. There were two knocks last season, one the 40 he got in 15 balls against Lucknow and the other the 42*, he got against Rajasthan Royals to take us home.These brilliant performances indicated that Rinku was on the right track and has a bright future ahead of him. On Sunday afternoon, Rinku Singh who also played a crucial hand in the win last week against the Royal Challengers, took the world by storm by scripting history, smashing 5 consecutive sixes in 5 balls to take KKR home, leaving everyone watching in euphoria.
Hailing from Uttar Pradesh, Rinku Singh comes from a humble background, from a family who at times struggled to make ends meet. Young Rinku had passion for cricket but would often question whether he could make it through the tough circumstances of his life to pursue a career in cricket. Having dropped out from schooling in the 9th standard, he was asked to join as a cleaner at his local coaching centre to support his family. Rinku however refused, and told everyone that he wanted to focus on his cricket because he felt it was cricket and cricket alone that would take him to places.
Rinku started his cricketing journey, 10 years ago, when he turned up for the Uttar Pradesh U16 side and was later promoted to the U19 side because of his flamboyance with the bat. Rinku has amassed 2875 runs from 40 first class games at an average of 59.89 with 7 hundreds and 19 half-centuries to his name. The youngster kept building a reputation of being a prominent hitter who could turn games with aggressive batting. In the 2018 edition of the Vijay Hazare Trophy, Rinku hit 95 of 41* balls against Tripura which caught the eye of several IPL scouts and soon after the Knights picked him up at the IPL auction for his base price of 10 lakh. In 2022, the Knights had to ward off a stiff fight from Mumbai Indians to retain the services of Rinku Singh, this time at a price of 80 lakhs. Rinku at that time had said he wasn't expecting a bid higher than 20 lakhs, which happened to be his base price!
Cricketers both former and current, journalists, fans, celebrities took to their social media in order to give their opinions on Rinku Singh's innings that truly broke the internet last night. Knights Coach Chandrakant Pandit, who was reduced to tears after Rinku hit the final ball for 6, rushed to hug the youngster and congratulate him on his incredible innings.
Rinku however cut a reserved figure at the post match ceremony dedicating every six he hit tonight to the people who have sacrificed so much so that he could live his dream of being a professional cricketer. The man of the moment also credited Skipper Nitish Rana for believing in him and telling him that he trusted him to bring this home. The duo who share a special bond, off the pitch, were seen celebrating long after the crowds had left the stadium.
In a chat with Skipper Rana after the match, Rinku Singh shared that he had doubts in his mind whether he could chase this target down since he was struggling initially to middle the ball. When quizzed what was going through his mind in the final over, Rinku said he was just looking to hit every ball as it came. He added that the last time he was in such a situation last season, he had failed to take the Knights home despite hitting an incredible 40 of 15 against the Lucknow Super Giants and that was also playing on his mind. Skipper Rana expressed delight on how things panned out over the course of the innings and said Rinku, the humble lad, deserved all the adulation and plaudits coming his way for the amount of work he had put in his game over the years.
Building on from the foundations he set himself during the last season and his excellent start this season, Rinku would now hope to continue his fine form and help the Knights in their championship race this season.