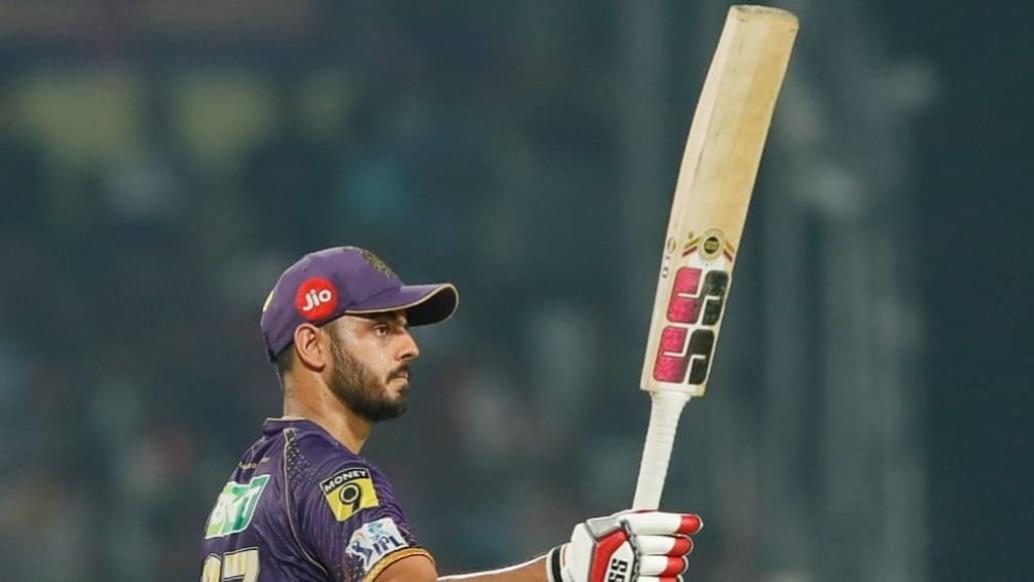 With over 100 games and 2500 runs in the IPL, Nitish Rana is one of the most exciting batsmen to have featured in the world's premier T20 cricket league. The southpaw who has been a crucial figure for the Knights for the last 5 years has been one of the most consistent players in the KKR squad over that period.
Born in 1993 in Delhi, Nitish wasn't much into cricket as a child. His father though was crazy about the game and his uncle too was a keen enthusiast. One summer, when they noticed Nitish was gaining a little too much weight for his age, they decided to enroll him into a cricket coaching camp hoping that would help him lose weight! Although the 12 year old Nitish didn't lose much weight that summer, he developed an interest for the game and in just a couple of years represented Delhi's state U-15 side. A year or more later, he started enjoying the game even more because he would mostly be away playing cricket and didn't have to study! While he was making a name for himself in the junior rungs of cricket, young Nitish Rana would often watch former Knights and India International Gautam Gambhir at the nets since they trained at the same facility. Rana credits his growth as a batsman and ability to play spin the way he does to the days he spent observing Gautam Gambhir! Not only did Rana go on to play alongside Gautam Gambhir in the Delhi side years later but he also led Delhi during the final few games of Gambhir's career. At the end of his stint with the Delhi side, Gambhir told him that there was no one more deserving to pass the baton on to. This left a significant impact on Rana and helped him grow in confidence as a player.
Rana began his IPL career with the Mumbai Indians in the 2015 season but chances were too far and in between in a star studded MI side. The southpaw broke into the side in the 2017 season, scoring 333 runs in 12 innings helping Mumbai Indians to their 3rd IPL title. However, Rana found himself in the auction pool ahead of the 2018 IPL, where KKR signed him for a fee of 3.4 crore. Since then there has been no looking back for the left hander as he has scored over 300 runs in every season he has featured for the Knights. In 2021, he amassed his career best 383 runs for a season helping the Knights reach the 2021 final. Rana has 17 fifties with a highest score of 85* to his name so far in the IPL.
In his early days, Rana would face criticism for wasting good starts to his innings and his weakness against the short balls. Undeterred, Rana has constantly worked on his game under close supervision of Abhishek Nayar and has found ways to grow as a batsman every season. These days, he is one of the mainstays of the Knights batting unit and has also established himself a key part of the leadership group in the Knights setup. Thrust into the Captain's role this season after Shreyas Iyer's injury Rana has been a revelation, leading the team from the front. In 11 matches this season, Skipper Rana has scored 326 runs at a strike rate of 146.84 and is second only to Rinku Singh who is having an incredible season with the bat. Other than being the Captain, Rana also essays the roles of being a friend, mentor and older brother to his teammates in the KKR dugout.. Alongside Coach Chandrakant Pandit, Rana has also given breaks to several young players such as Suyash Sharma, Harshit Rana, Rahmanullah Gurbaz, Vaibhav Arora and Anukul Roy to great success.
Playing some of his best cricket in Purple and Gold, Skipper Rana has impressed one and all this season with the way he has led the side and kept them in contention for a spot in the playoffs. As the final set of fixtures unfold, Rana would be hoping to emulate his idol Gautam Gambhir and bring home a 3rd title for the Knights.